"And Then You Saw This Show" is a show about a life of a wierd,annoying,smart,and creative kid.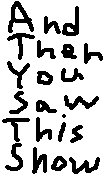 Characters
Edit
Jay-The most wierdest kid you've ever seen,loves playing on the computer,and a big fan of Mario and Spongebob.Admits he's annoying.
Alex-Jay's best friend.He has the same interests as him.When he's outside he usually plays on his trampoline,and hes 2 years younger than Jay.
Drake-Jay's mean,older brother.Usually calls Jay "Gay"and loves to play hockey.He thinks Jay is EXTREMELY annoying.Plays Xbos 360 alot.
1: "And Then You Saw This Pilot" Written By Faves3000
Jay uses his Camera to introduce the cast.
2: "Glum"Written By Faves3000
Alex is feeling down,so Jay tries to make him happy.
3: "Can I Join?" By Faves3000
Jay tries to join Drake playing his Xbox360.
4: "Grounded" By Faves3000
Jay is grounded,but he tries to get on the computer anyway.
5: "Shocking!" By Faves3000
Jay gets electrocuted by screwing around inside his game system.
6: "Science Fiction" By Faves3000
Jay tries to build a time machine,but epic fails.
7: "Sleepover" By Faves3000
Jay has a sleepover at Alex's.
8: "Tired of Hurting" By Faves3000
Jay gets tired of Drake hurting so Jay tries to avoid him.
9: "Yawn" By Faves3000
Jay is bored,so he tries to find something to do.
10: "Video Games" By Faves3000
Jay tries to buy a Video Game
11: "MONEE!" By Faves3000
Jay does chores do get an allowance
12: "24 Hour Awake" By Faves3000
Jay stays up all night with Drake
This show is based off of Faves3000's life.
The show shows 1 episode and is 15 minutes long.
Put your username and the job you want below:
Faves3000 - Creator,Producer,Writer,Storyboard Maker
Ad blocker interference detected!
Wikia is a free-to-use site that makes money from advertising. We have a modified experience for viewers using ad blockers

Wikia is not accessible if you've made further modifications. Remove the custom ad blocker rule(s) and the page will load as expected.